ADU.
Don't know the name? You are not alone.
Odds are you have probably seen one, or referenced one by a different name, but the official ADU terminology has not gained mainstream use…until now. Suddenly, ADUs are the trendiest and hottest topics in construction and real estate. And, for good reason.
ADU stands for Accessory Dwelling Unit.
ADU's are typically referred to as Granny Flats, Carriage Houses, Cottage House, Laneway Houses (on an alley), and Mother in Law Suite/Quarters.
The list of potential names is as endless as the unique residences themselves. Here some words that come right off the top of our heads:
Alley Flat, Attic Apartment, Au Pair Unit, Backyard Cottage, Backyard Home, Backyard Studio, Basement Apartment, Basement Apartment Studio, Basement Suite, Boomerang Bungalow, Bungalow, Cabin, Caretaker Cabin, Caretaker Casita, Caretaker Cottage, Carriage House, Casita, Chalet, Companion Unit, Cottage, Cottage Home, Dacha, Dawdy House, Dual Occupancy Home, Family Share Home, Family Share Residence, Father in Law Unit, Flat, Garage Apartment, Garage Conversion, Garden Cottage, Garden Suite, Grand Retreat, Granny Flat, Granny Pods, Granny Unit, Guest Suite, Guest Unit, Guest House, Home Accessory Unit, Home Office Unit, In Law, In Law Apartments, In Law Flats, In Law Suite, In Law Unit, In Law Suite, Laneway, Laneway Home, Laneway House, Meditation Studio, Modular, Mother Daughter, Mother in Law Apartment, Mother in Law Flat, Mother in Law Quarters, Mother/Daughter, Multigenerational House, Next Gen, Ohana Dwelling Units, Ohana Dwellings, Ohana Unit, Out of Towner Suite, Pool House, Prefab, Second Unit, Secondary Suites, Self-Contained Apartment, Sidekick, Studio shed, Studio Shed, Guest Pod, Multigen Home Office Pod, School Pod, Attic House, Basement Room.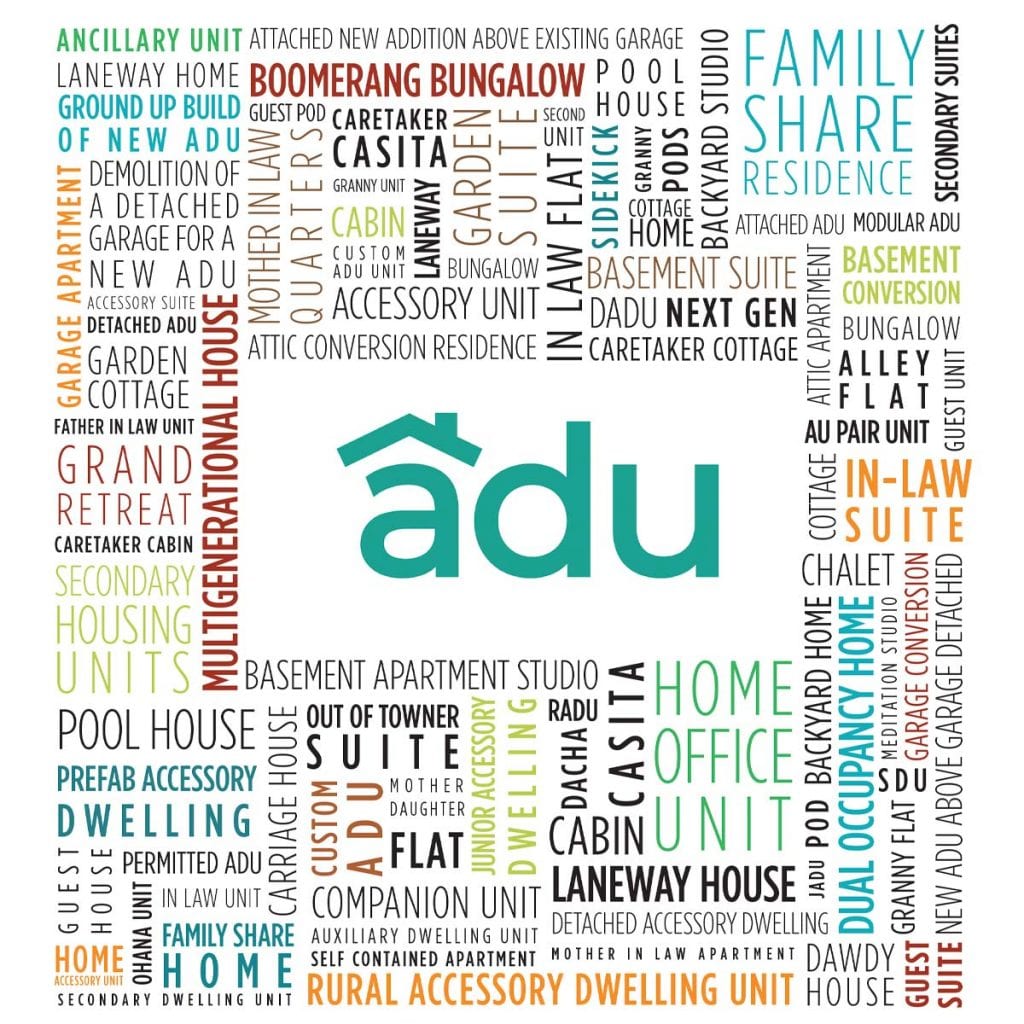 These individual names tend to be created and associated in part from the use of a residence or each of our personal experiences with individual dwellings. We personalize the names with each origin, often deriving wording in part from its occupants, usage, architecture/design, and even location.
A Granny Flat, of course, would be where grandma lives. A Carriage House would be where you keep the carriage, horses, and likely also where your driver who is watching over both resides. Cottage House evokes images and feelings of that charming cottage style extra guest home on the farm. Laneway Houses, sounds and feels very urban, but is definitely on an alley. And of course, In-Law-Quarters – those are your spouse's parents out in the back.
These could just as easily be the Pool House, the Au Pair Unit, Bungalow, etc.
It is also a bit about style. And, for good reason. When you ask someone where they reside, it is a bit stale to say, "I reside in the Second Unit." But saying "The Bungalow," now that's very Beverley Hills.
While the individual terminology and association might vary from residence to residence, from a more practical standard, the growth and popularity of Accessory Dwellings have created the need to name them more formally. This partly to have universal usage for communication by planners, code enforcers, and public works personnel when addressing the logistics and the regulatory considerations associated with them. But, from a broader consideration, with so many names, it is also part of a broader effort to develop some standardization when addressing these dwellings.
Within the ADU classification, there is also some reference to the category of ADU.
So, think of ADU is the catch-all for Accessory Dwellings. Within it are several categories of residences. These acronyms are created with the addition of a letter to help capture some description of the architectural form of the structure.
Example:
DADU – Detached Accessory Dwelling Unit
JADU – Junior Accessory Dwelling Unit (inside the main residence)
BADU – Basement Accessory Dwelling Unit (in the basement)
The number of categories can also be as endless as the variety of names and styles of these unique residences.
THE TYPES OF ADUs – LEARN MORE ABOUT THE DIFFERENT TYPES OF ADUs
Luckily, ADU sounds cool. It invokes feelings of the French Adieu meets a trendy urban hip club with cool font signage you might stand in line for in Los Angeles. Or at least we think so. And we are ADU MagazineTM, so we kind of doubled down on that one.