Custom Modern Tiny Home(stead) in the Desert
Modern rustic casita with hits of industrial!
La Casita Cacao just invites you to curl up and relax. It has a full size bathroom, spacious kitchen and living area that can be used as a secondary bedroom. It is bright and airy with an abundance of light.
It was designed to marry modern comfort and natural living. We searched for the best eco brands and products available in the market to make this possible. All kitchen appliances, air conditioner and fans are powered with a battery bank. It relies on a Rheem tankless electric heater for on demand hot water, features the Nature Head composting toilet and it's pipe system allows all its used water to be recycled and drained into the garden for zero waste.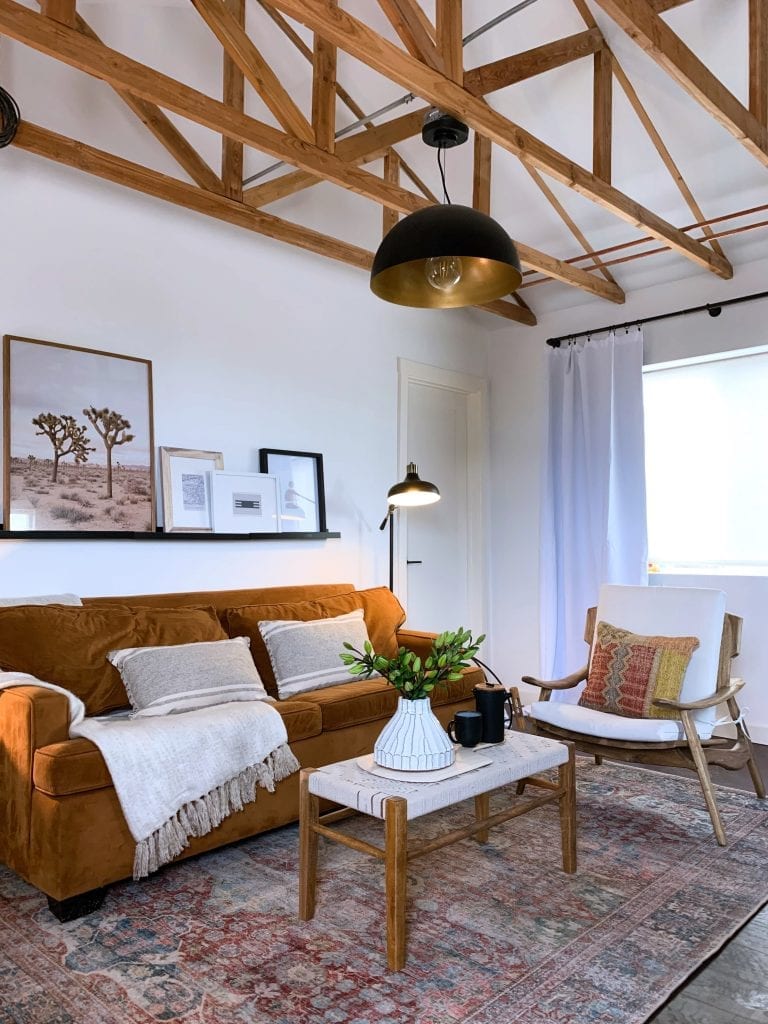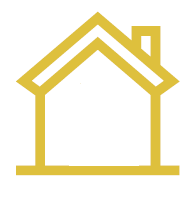 Size of Home: 430 Square Feet (35 x 15)
Type: ADU
Construction: Conversion
Style: Casita – Modern/Industrial
Why did we build it?
We love hosting! It is an extension of our homemaking and being able to create a comfortable space where friends and family can visit and experience our lifestyle is always a joy. We knew that the old shed would be a perfect spot to do that and we're so glad we were right!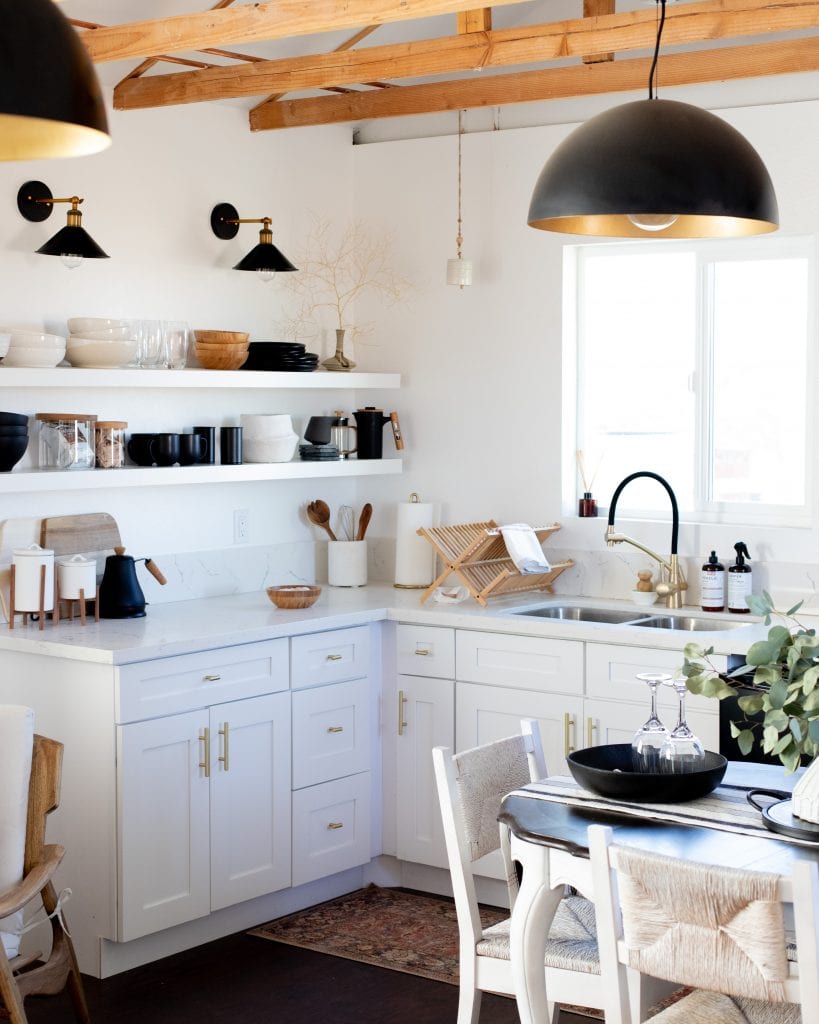 Builder:
Ourselves. We did a lot of the work ourselves with help of friends and family
Advice to homeowners about ADU's and creating a small space they'll love?
Once you're set on the purpose of the ADU- set a timeline and budget…now double it! Surprise fixes and delays WILL  happen- be prepared.
Take as much time as you need to find a good contractor! Even if you do the work yourself they are essential to the project no matter how small or big it is! A good one will guide you, understand your vision, and will certainly NOT impose their own taste on your design.
Plan on managing the project from start to finish yourself.  No one cares about this project as much as you do it is that simple! We noticed details would be left unfinished or design elements would be misplaced if we didn't check the renovation on a daily basis.
Don't start shopping the details until the big stuff is done and set (Framing, floors, walls, etc.). I got carried away buying rugs, pretty faucets, chairs, even a murphy bed we didn't end up using because of the size of our finished layout.
Finally, just have fun watching your vision become reality – it'll be what its meant to be!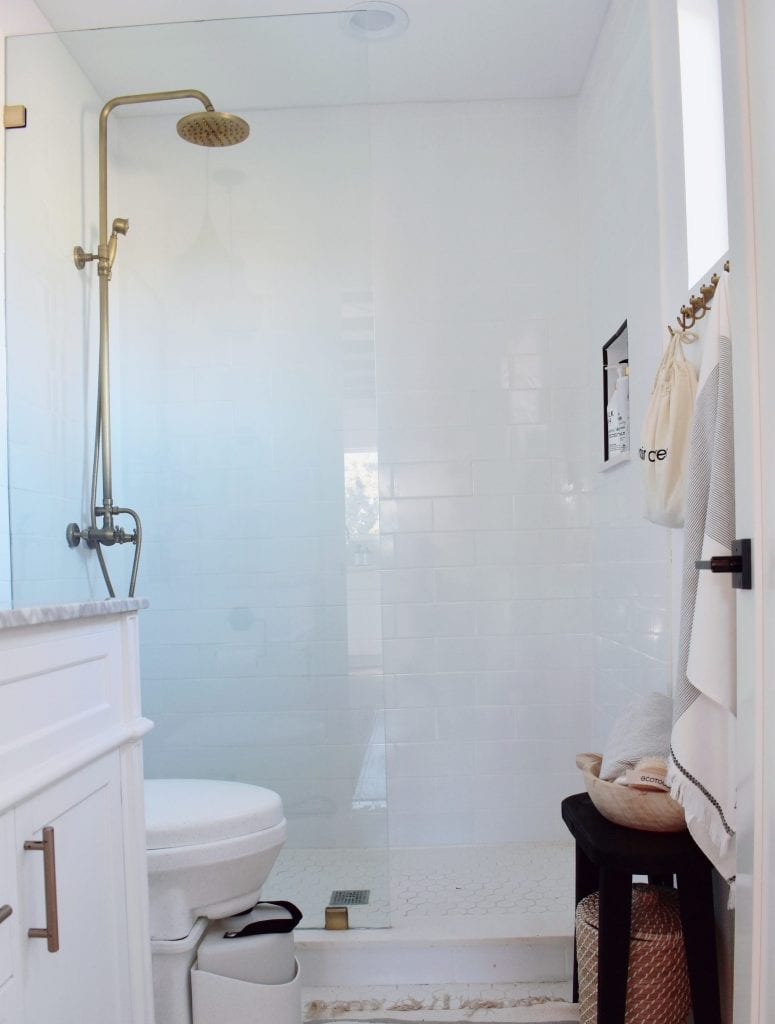 Owners Favorite Things about the ADU & Main House.
The Casita sits in the back of the main house and both sit on an ample 5 acre property! The amount of space inspired us to turn the land into a homestead where we raise farm animals and grow our own food.
Everyday we experience a "slow living" lifestyle not because we are not busy-on the contrary! But slow in the sense that we raise them as nature intended them to be raised- with lots of time and hands on work. "Back to Basics" has been our motto and both the homestead and the casita help us live that!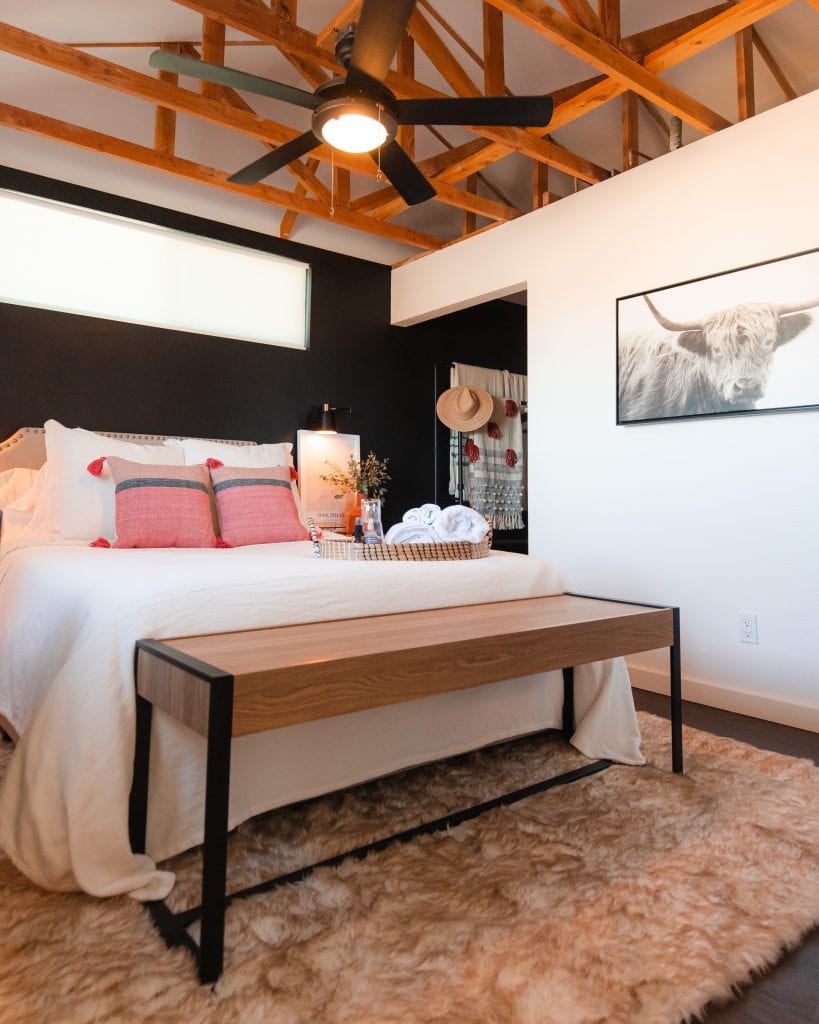 What ADU Magazine loves about Casita Cacao
Casita Cacao embodies what we love about ADUs: style, comfort, and functional design that not only is beautiful to your eyes but captures your heart.
Every small element of this home goes big. From the owners dedication to sustainable living and their choices of home design.
If you are looking to build an ADU of 400-500 square feet its a great representation of what can be accomplished.